Who we are
BT Makelaars; the premier commercial real estate agent in the Schiphol region. For 20 years now, we have been the right contact for expert advice in any commercial real-estate related matter. We are known for our pragmatic yet personal methods and extensive knowledge.
We have a reality-based approach and combine sincere involvement with a "roll up your sleeves and get to work" mentality.
What we do
BT Makelaars focuses solely on brokerage services for "businesses," or commercial real estate, such as office and business premises both small and large. Our key activities are the letting/selling and leasing/buying of these premises, as well as renegotiating for the parties involved, offering legal advice and supervising any building technical aspects.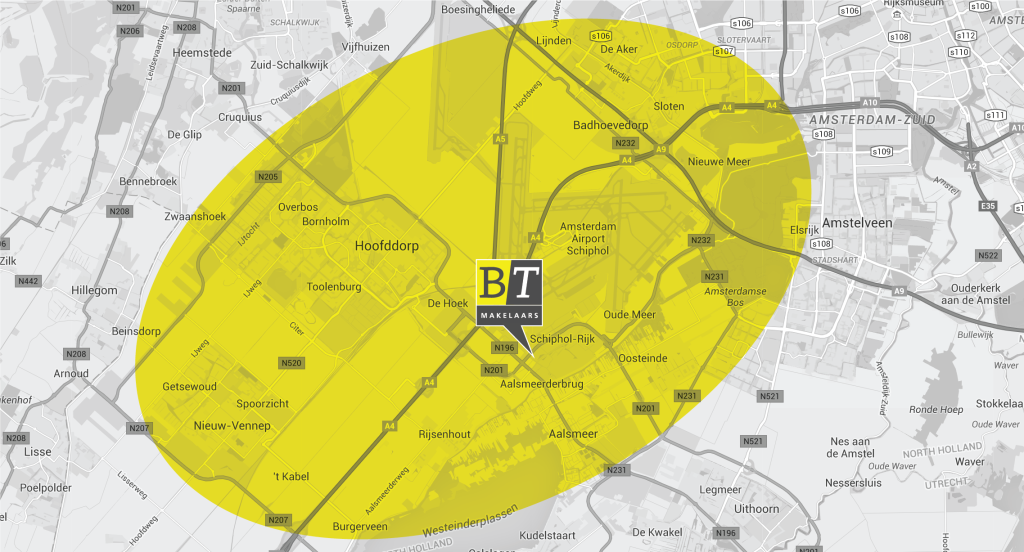 A simple definition of the scope of our activities would be "all types of business premises in the vicinity of Schiphol Airport." And that's where we are located too: Park Schiphol-Rijk, the heart of this area; a location that caters to quick and efficient action at all times.
Our clients
BT Makelaars offers advice and guidance to institutional and private investors, developers and users of office and commercial space, among others. Thanks to our years of experience providing professional services and our enthusiastic methods, our clients come back to us, time and time again. Our client base includes for example property owners who want to (re-)let a space, tenants who have grown too big for the available space or whose lease term has expired and who want to relocate (or renew), and users who want to purchase their rented premises. All these matters require attention, which we are happy to give.
What our clients have to say about us can be found under "References."
History
BT Makelaars was founded in 1997. Owner Marijke Toenbreker has been working in real estate in Haarlemmermeer for more than 25 years and in that time, she has acquired a thorough understanding of the Schiphol region. BT Makelaars has witnessed most of the (commercial) development of Haarlemmermeer, where a large part of the formerly agricultural land has been developed into office and commercial buildings. They know the area like the back of their hand.